ABOUT US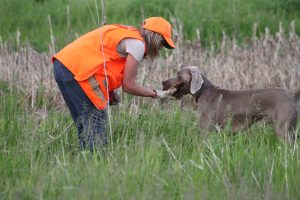 Sue has worked in the animal/canine field as a profession for over 30 years. She rates the working hunting dogs as her favorites, and goes on to say, "Fred and I agreed to try a different breed to what either of us had owned before, and I must admit, our Weimaraner Tori is THE most biddable dog ever! We really appreciate the intelligence of this breed. There are incredible performers in the working dog world. The versatility is amazing, like they have switches on the back of their heads! They need an active working home to keep them busy and learning."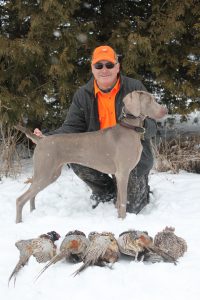 Fred
Fred had hunted more in the marshes than he had in the upland fields prior to getting a Weimaraner. Wanting to switch to a versatile breed he states, "our Weimaraner Tori has shown she can do it all…retrieve, point, track….simply magic!" They are incredible hunters who quickly learn to work the wind and manage the birds.
Tori is the first dog of any breed in Canada to earn the CKC title of WATER DOG EXCELLENT in 2018
Her daughter Cuda and grand daughter, Millie, and grandson,Remmy were also the first weimaraners in Canada to get WATER DOG titles. They love the water and hunting.